All about the Agumbe Rainforest Trip, Waterfalls.
Hello Explorers!
Before reading anything further, watch the video to have a sneak peek of the magical world of Agumbe in monsoons!
This monsoon, Muddie Trails heartfully brings you the unique and amazing combination of
Lush green mountains
Wettest rainforests
Thunderous waterfalls
Thrilling Hikes
Misty valleys
Beautiful Fort
Ancient Temple
Forest Village homestay
Delicious Malnad style food
A whole new ecosystem comes to life when monsoons hit western ghats. Agumbe rainforest has once even surpassed Cherrapunji of Meghalaya as the place with the highest rainfall. It rains so much that, all the lakes & streams overflow, they form plenty of waterfalls (some of them as gigantic as Jog falls, which is in the same district) and forests soak enough water that feeds rivers till next summer. 
Nestled at the heat of tropical rainforests with rich biodiversity, Agumbe is located at a distance of 380 Km from Bangalore. It receives more than 7,500 mm of mean annual rainfall, one of the highest in India. Trekking through its forests to visit the waterfalls is a delight to nature lovers. Agumbe is also called King Cobra capital because of the highest density of snakes found here. However, they usually do not come on our trek path, and trekkers are cautioned to wander into the forest. It's not surprising to find common non-venomous snakes like a green vine, different species of frogs, reptiles, and other amphibians.
Few etiquettes to follow when you visit Agumbe:
Just surrender yourself to raw nature
Enjoy the visual feast
Smell the wild, get wet & get muddy
Forget everything else, even the mobile signal
---
Highlights of the Agumbe Trip:
The amazing 5 km Kavaledurga Fort Trek (Easy)
Hidden waterfalls (Rainforest Special experience)
Silent Lake (Rainforest Special experience)
Kundadri Hill (The highest peak of rain forest)
Sringeri Temple
Campfire (It, it doesn't rain)
Good veggie food
---
Join us on:

—–
—–
—–
—–
—-


Check us out on:

(4.9 ⭐200+ reviews)—–
 (4.8 ⭐950+ reviews)
Watch Video(s) to get feel & vibe of the trip!
Day 0 Schedule

Start from Bangalore, an overnight journey

Day 1 Schedule

Reach homestay close to the forest, freshen up
Fuel up with nice Malnad special breakfast 
Drive to the base of ancient Kavaledurga Fort, start hiking up to enjoy the mesmerizing trek route that starts with lush green rice fields that give way to a human-made path made with boulders
There is an ancient temple in the middle and many ponds that served as water stores at that time
This is a 2.5 Km easy trek (one way) with stunning views of the rainforest from the top
Head back to the vehicle, jungle walk of 1 km to take a dip under the pristine waterfalls of western ghats that is Agumbe special, have lunch overlooking the falls
Head back to the homestay
Visit a giant lake in the lap of rainforest
Bonfire at night with long conversations in the dark
Well deserved hot & delicious vegetarian dinner
Rest in the rooms

Day 2 Schedule

Freshen up and Breakfast, pack your bags, leave Homestay
Hike up the Kundadri hills – The highest point in the Agumbe mountain range (2.5 km easy hike one way), have a sneak peek of the extremely beautiful and dense Agumbe rainforest filled with rich vegetation, pristine rivers, and gigantic lakes.
Break for Lunch at a local food joint. Note that food options are very limited in that remote location, with only fast food available like maggie, gobi, bajji, etc)
Head to the temple town of Sringeri and visit an ancient temple built in the 8th century on the banks of Tunga river, explore the beautiful architecture of this serene place in the heart of western ghats
Get back to the vehicle and start return journey towards Bangalore
Dinner on the way close to Chikmagalur town

Day 3 Schedule

Reach home early in the morning.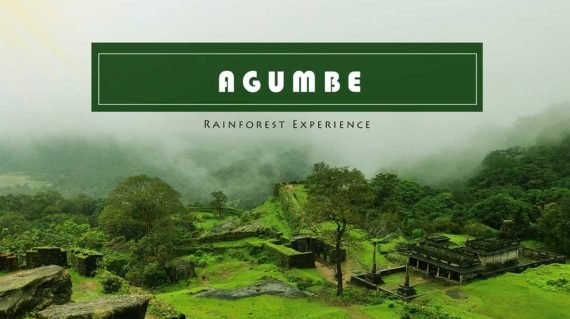 Generic Details
Travel:
Tempo or mini-bus depending on final numbers (Non-AC)
Starting time: Friday night 9 PM
Ending time: Monday morning around 5 AM
Pick up spots: Tin Factory, Marathahalli, Domlur, Goraguntepalya
---
What's next after booking your trip:
A Whatsapp group will be created for all the registered folks night before the trip
You may say hi to other trekkers and get prepared for the trip
We will set expectations about the trip, remind you of important Terms & Conditions
---
Seasonal variations:
June to Oct (monsoon months): Thick clouds, persistent rains, leeches, plenty of water in waterfalls. The wild and wet season for Agumbe. Water everywhere.
Nov to Feb (winter, pre-summer): Clouds playing hide and seek, misty landscapes, a good amount of water in waterfalls, peaceful sunsets, the rainforest views are pretty clear, pleasant weather to climb, Bonfire at night gives great experience in the middle of the forest.
March to May (summer): Gets dry, still there's water in falls and streams. We usually stop doing Agumbe by March.
The tour package inclusions and exclusions at a glance.
Agumbe Rainforest Inclusions
Items that are included in the cost of tour price.
Travel
Homestay (separate Dorms for guys and girls)
Food: 2 Breakfasts, 1 Lunch, 1 Dinner (all Veg)
Experience all places mentioned in the Highlights section
Campfire (if it doesn't rain at that time)
Organizer(s) from MT
Agumbe Package Exclusions
Items that are excluded in the cost of tour price.
Lunch, Dinner on Day 2
Any misc. expenses not mentioned in the inclusions above
No Luxury. We assure awesome memories every trip, but not awesome facilities.
We provide basic facilities in terms of food, travel, and stay.
The itinerary is fixed. No special requests to change itinerary/schedule are permitted. Do not give advice(s) to the Organizer.
Absolutely no littering. We swear to protect our environment.
No alcohol & smoking during travel, treks, and other outdoor activities. There would be a separate window and space (usually at night) to have these at the campsite/homestay for interested people.
Cooperate with the organizer(s) in following the schedule set for the day (especially getting up and getting ready in the morning). This will ensure travelers won't miss out on the real fun part that is traveling.
Every traveler is responsible for his/her for your own safety. Don't indulge in any illegal or silly activity that causes harm to you or fellow travelers.
Do not wander into the forest away from the designated trail for trekkers. There may be snakes, scorpions, and other dangerous animals.
Unexpected situations: It may happen we do not cover all the places mentioned in the itinerary because of unpredictable reasons like bad weather, landslides, wild animal presence, abrupt blocking of sites by the police/forest department, delay in travel because of an issue with our group itself, traffic conditions, etc. In most cases, if the time permits, the organizer(s) will take travelers to an alternative place. But in some cases, we may have to skip a place altogether.
The event will stand canceled if less than 8 travelers signed up for the trip/trek
Travelers are expected to respect each other and help each other. Avoid discussing sensitive matters like sex, politics, and religion/caste/race.
Using foul or abusive language, eve-teasing, arguing with fellow travelers/organizer(s), and/or involving in the physical assault will not be accepted and will stand a chance of being deserted by the group then and there.
Every traveler is expected to sign a liability/waiver form given by the organizer(s) after boarding the vehicle. This liability form will discharge Muddie Trails of any unexpected incident like injury/death/theft etc. Read it here.
80% refund if cancellation request is sent before 48 hours of trip start time
No refund  if cancellation request is sent within 48 hours of trip start time, whatever be the reason (health, family, work issues, accident etc.)
No refund during or after the trip, whatever be the reason
No refund on the partial payment done to block your seat for the trip
Tin Factory: 9:00 PM
Madurai Idli shop
Towards Mariamman Temple side
---
Marathahalli Bridge: 9:20 PM
---
Domlur: 9:50 PM
New Shanti Sagar Hotel
https://goo.gl/maps/DJdgKLtrpyY2Qyto6
---
Goraguntepalya: 10:45 to 11:10 PM (based on traffic)
Toiletries, moisturizer, light towel, lip balm, wet wipes, toothbrush, toothpaste, 
A lightweight large Backpack for the trip (no suitcase, no trolley)
A small backpack for the trek (to carry Lunch packet, water bottle, snacks etc)
Photo identity proof with address (Aadhar/Passport/Voter ID)
Poncho or rain proof jacket with a hood (from June to October)
Track pants, full sleeve T-shirt for the trek
Cap/hat (to avoid getting tanned)
Sunglasses (to keep your eyes fresh)
Power bank, charger, camera, binoculars (if you wish to)
Proper water bottle for your trip. You may fill at our homestay
Disposable garbage covers (To separate used/unused, dry/wet clothes)
Good grip trekking shoes or sandals
Your personal medications, if any
Pair of water wear to take a dip in the waterfalls/sea
Carrying a handwash/sanitizer/tissues will help during the trip
Carry your jerkin/sweater – it can get cold at night
Carry a lil bit of cash for Sunday Lunch, Dinner and misc. Expenses
Don't carry expensive items. You are responsible for your own belongings.
It falls under easy difficulty level. Even first timers may attempt this trek. It's more of a rainforest experience than trekking or hiking
It's just about a 5 Km trek up and down for Kavaledurga fort. Usually on Day 2 bigger vehicles cannot reach the top of Kundadri hill, so we may have to walk 6 Km up and down on a broken road.
Surely the monsoons (June to Oct). It's a great experience this time for the travelers who don't care about getting wet and wild.. Having said that, the water flow will be huge at this time. 
The best time to take dips in waterfalls is post monsoons (Nov to Feb). The climate is also very pleasant. Because of its proximity to the west coast, it doesn't get too cold here.
---
Read the detailed Terms and Conditions here.
---
Got more questions? Check out here!
| Package Confirmed Dates | Trip Status Trip Status | Price (PP) Excluding Flights | Price (PP) Including Flights | |
| --- | --- | --- | --- | --- |
| September 26, 2020 - September 27, 2020 | Available (Starts Friday night) | | | |