Hampi Trip with Hippy Island | Hyderabad
from
₹4,800.00₹4,250.00
Hampi Trip with Hippy Island from Hyderabad
The grand old "lost city" of Hampi, which is also a UNESCO World Heritage Site is both flamboyant as well as laid back in its demeanor. A weekend trip to Hampi is every traveler's delight.ok
Reviews 0 Reviews

0/5

Vacation Style Holiday Type

Activity Level Leisurely

Group Size Medium Group
All about the Hampi Trip with Hippy Island | Hyderabad.
Hello Backpackers!
Have you been Hampi-fied at least once in your life?
Hampi, situated on the banks of the river Tungabadra, is a backpackers paradise as well as Hippie haven. There are many interesting things here like hillocks filled with boulders, monuments, ruins, temples, laid back cafes, arts, shopping, trekking, etc. Located at a distance of 370 Km from Hyderabad, it makes a great offbeat weekend getaway. 
Hampi is a different world altogether that takes you back in time, amazes you with its mystical ruins, and makes you wonder how magnificent this city would have been centuries ago. It was the capital of the grand Vijayanagara kingdom which was ruled by Sri Krishnadevaraya. At its peak, Hampi was one of the richest cities in the world. Traders from different parts of the world would visit Hampi for business. 
If you think this is fascinating enough, it's not over yet. Hampi also has mythological significance attached to Ramayana. It is said to be the Kishkinda kingdom of Vali, Sugreeva and our very own Hanuman. A temple on top of a hillock named Anjanadri is said to be his birthplace. The same hill also doubles up as a place for a beautiful sunset. 
While we marvel at the colored-retro setting of the Hampi, we are gonna stay very close to the river Tungabhadra, hike a couple of boulder-filled hillocks and enjoy pretty views from the top, including a lovely sunset that Hampi is famous for.
Can we ever be satisfied without getting wet? We will also take a soothing dip in the pristine waters of Sanapur lake under hot Hampi weather. For those who wouldn't like to get wet, local villagers usually operate Coracle rides here. Even if one doesn't indulge in both, Sanapur lake surrounded by stunning boulder hills is such a serene locale to just sit and relax.
What more?
Lazy lunch on the cozy beds of a cafe, lots of socializing, good food, music and bonfire…all of them to quench your thirst for an offbeat and laid back weekend!
Lets just #getmuddie in Hampi this weekend!
---
Higlights of the Hampi Trip:
Anegundi Fort
Sanapur Lake visit
Hippie Island walk, hill, sunset
Vijaya Vittala Temple (monuments)
The Stone Chariot on 50 Rupees note
Pushkarini (ruins)
Virupaksha Temple 
Hippie Cafes
Campfire
Music and social gathering
Good food (Veg and non veg)
---
Join us on:

—–
—–
—–
—–
—-


Check us out on:

(4.9 ⭐200+ reviews)—–
 (4.8 ⭐950+ reviews)
Day 0 Schedule

Start from Hyderabad, an overnight journey

Day 1 Schedule

Reach Hampi Guest House, freshen up & breakfast
Hike up the magnificent Anegundi Fort and explore at the amazing boulder-strewn hilly views from the top
Break for a nice veggie meal in the middle
Post lunch, enjoy the cool breeze of the pristine Sanapur Lake – take a dip if you wish to, go on a coracle ride on the lake (optional & self-sponsored), relax and rejuvenate.
After a well-deserved dip, drive to Hippie Island, explore the streets, enjoy amazing sunset atop a hillock or (look at "Seasonal Variations" section for more details) Drive to the base of the Anjanadri hill and hike up the hill on the northern banks of Tungabhadra river, relax & enjoy the peaceful sunset

Get back to the guest house, freshen up and laze around as Dinner is served on the cozy cafe beds
Bonfire, social gathering in the night with long conversations
Rest in your assigned rooms.

Day 2 Schedule

Start the day with a morning walk along the Tungabhadra river followed up by breakfast
Drive to Hampi town, visit the most famous Vijaya Vittala temple, explore its monuments, one of them being – The Stone Chariot on 50 rupees currency note. We usually have a guide here explaining interesting facts and history about this wonderful place
Visit a unique structure called Pushkarini, a perfectly symmetrical stepped water tank that becomes smaller as it goes down, that looks very attractive
Go to a famous cafe, have a relaxing Lunch
Visit Virupaksha temple in the evening, the only working temple in Hampi (rest of the places are either ruins or monuments)
Walk down to flea market and shop your bags full
Finish dinner at a cafe and start back to Hyderabad

Day 3 Schedule

Reach home early in the morning.
Share your memorable Hampi weekend trip story with your friends and family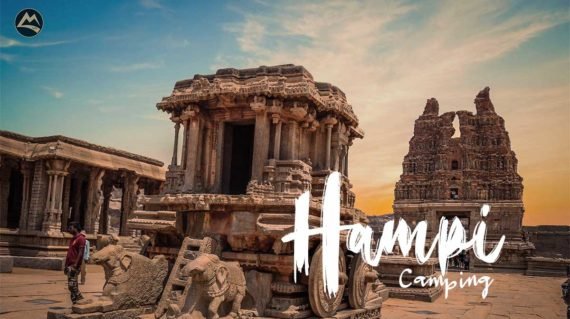 Generic Details
Basics:
Total slots for the trip: Usually 10 or more
Stay at our beautiful guest house on sharing basis, proper washrooms
Food: 2 Breakfasts, 1 Lunch (veg), 1 Dinner included (veg and non veg)
Trek difficulty level: Easy hikes
Trek distance: 2 to 3 Km each day
---
Travel:
Tempo or mini-bus depending on final numbers (Non-AC)
Starting time: Friday night 9 PM
Ending time: Monday morning around 5 AM
Pickup / Drop spots: Kondapur, Gachibowli, Thondapalli ORR
---
What's next after booking your trip:
A Whatsapp group will be created for all the registered folks night before the trip
You may say hi to other travelers and get prepared for the trip
We will set expectations about the trip, remind you on important Terms & Conditions
---
Seasonal variations:
June to mid Sept (monsoons): Hampi gets its fair share of rains in this season. As one can guess, spotting sunsets are rare. However, the boulder filled hills look very pretty in the rain. Release of water from Tungabhadra reservoir uphill may impact our plans of taking a dip (or coracle ride) at Sanapur lake or exploring Hippie Island on Day 1. Few weekends, usually in July/Aug, Hippie Island may be inundated with flood water with no way to commute. However we can still visit Anjanadri hill that offers panoramic views of rocky valleys. 
Mid Sept to Feb (winter): The weather opens up for the beautiful sunsets that Hampi is famous for. Lots of Hippies, especially from Israel visit Hampi this season. The cafes in Hippie Island are filled with backpackers and travelers. We pick Hippie Hill sunset to Anjanadri Sunset in these months. If you are interested in visiting Anjanadri hill, you may do so on Day 2 morning before your breakfast (takes 2 hours approx).

Mar to May (summer): Gets really hot. We usually don't organize Hampi in these months.
The tour package inclusions and exclusions at a glance.
Hampi Package Inclusions
Items that are included in the cost of tour price.
Travel
Stay at our guest house (separate rooms for each gender)
Food: 2 Breakfasts, 1 Lunch (veg), 1 Dinner (veg & non veg)
Experience all places in Highlights section
Bonfire (if it doesn't rain at that time)
Music and dance under open sky
Organizer(s) from MT
A hell lot of entertainment!
Hampi Package Exclusions
Items that are excluded in the cost of tour price.
Lunch, Dinner on Day 2
Coracle or any special activities
Any misc. expenses not mentioned in the inclusions above.
No Luxury. We assure awesome memories every trip, but not awesome facilities.
We provide basic facilities in terms of food, travel and stay.
The itinerary is fixed. No special requests to change itinerary/schedule are permitted. Do not give advice(s) to the Organizer.
Absolutely no littering. We swear to protect our environment.
No alcohol & smoking during travel, treks and other outdoor activities. There would be a separate window and space (usually at night) to have these at campsite/homestay for interested people.
Cooperate with the organizer(s) in following the schedule set for the day (especially getting up and getting ready in the morning). This will ensure travelers won't miss out on the real fun part that is traveling.
Every traveler is responsible for his/her for your own safety. Don't indulge in any illegal or silly activity that causes harm to you or fellow travelers.
Do not wander into the forest away from the designated trail for trekkers. There may be snakes, scorpions and other dangerous animals.
Unexpected situations: It may happen we do not cover all the places mentioned in the itinerary because of unpredictable reasons like bad weather, landslides, wild animal presence, abrupt blocking of sites by the police/forest department, delay in travel because of an issue with our group itself, traffic conditions etc. In most cases, if the time permits, the organizer(s) will take travelers to an alternative place. But in some cases, we may have to skip a place altogether.
The event will stand cancelled if less than 8 travelers signed up for the trip/trek
Travelers are expected to respect each other and help each other. Avoid discussing sensitive matters like sex, politics and religion/caste/race.
Using foul or abusive language, eve teasing, arguing with fellow travelers/organizer(s) and/or involving in physical assault will not be accepted and will stand a chance of being deserted by the group then and there.
Every traveler is expected to sign a liability/waiver form given by the organizer(s) after boarding the vehicle. This liability form will discharge Muddie Trails of any unexpected incident like injury/death/theft etc. Read it here.
80% refund if cancellation request is sent before 48 hours of trip start time
No refund  if cancellation request is sent within 48 hours of trip start time, whatever be the reason (health, family, work issues, accident etc.)
No refund during or after the trip, whatever be the reason
No refund on the partial payment done to block your seat for the trip
Kondapur:
Harsha Toyota Showroom 9:00 PM 
Gachibowli:
HP Petrol Pump / Punjabi Rasoi 9:20 PM
Thondapalli after ORR Exit
Toiletries, moisturizer, light towel, lip balm, wet wipes, toothbrush, toothpaste
A lightweight large Backpack for the trip (no suitcase, no trolley)
A small backpack for outdoors (to carry water bottle, snacks, towel etc)
Photo identity proof with address (Aadhar/Passport/Voter ID)
Poncho or rain proof jacket with a hood (from June to September)
Full sleeve cotton t shirt, track pant is advised for Hampi as it's a hot place (Oct to Feb)
Cap/Hat/Sunscreen (to avoid getting tanned bigtime)
Sunglasses (to keep your eyes fresh)
Power bank, charger, camera (if you wish to)
Proper water bottle for your trip. You may fill at our campsite
Disposable garbage covers (To separate used/unused, dry/wet clothes)
Any kind of sandals or shoes are fine
Your personal medications, if any
Waterwear if you wish to take a dip in the Lake
Carrying a handwash/sanitizer/tissues will help during the trip
Carry a lil bit of cash for Sunday lunch, dinner and misc. expenses
Don't carry expensive items. You are responsible for your own belongings.
There are two best seasons to visit Hampi – monsoons, and winter. 
Monsoons (Jun to Sept) offer a pleasant climate to explore Hampi which is a naturally hot place because of its bouldery terrain. Overcast weather and drenched landscapes offer a gorgeous picture of the lost city. One would miss sunsets, but that can be compensated by abundant water in lakes and rivers.
Winter (Oct to Feb) presents hot days and pleasant nights. This season brings lots of Hippies to Hampi from different countries. Taking shower in the lake waters gives much-needed respite. Lovely sunsets become new normal.
---
Read the detailed Terms and Conditions here.
---
Got more questions? Check out here!
Scroll towards left to book on mobile >>
| Dates | Trip Status | Price | |
| --- | --- | --- | --- |
| January 30, 2021 - January 31, 2021 | Available (Starting Friday night 9PM - Return Monday morning 5AM) | | |