Dandeli Water Adventures, Camping
from
₹4,750.00
Dandeli Water Adventures, Camping
– Presenting you a weekend trip brimming with adrenaline-pumping water adventures on the waters of the river Kali in Dandeli..!!
Reviews 0 Reviews

0/5

Vacation Style Holiday Type

Adventure, Backpacking, Camping

Activity Level Easy

Group Size Medium Group
All about the Dandeli Water Adventures, Camping.
Hello Adventure seekers!
Dandeli is an ideal weekend getaway in north Karnataka for those who love nature & water activities. The town is surrounded by thick forests and rich vegetation where rare animals and birds roam in deep valleys and hilly terrain. On the banks of the Kali river, Dandeli is truly a fascinating mix of wildlife, scenic beauty, and adventure sports.
Different water adventure sports in Dandeli include Kayaking, Jacuzzi, Boating, Zorbing, Swimming with life jackets, etc. Each activity costs between 100 to 350 INR. A Short White Water Rafting costs approx 600 rupees. We have a window to enjoy whichever watersports you pick.
One would like to enjoy all watersports. Don't worry about the price of individual activities. Muddie Trails tied up with local and certified adventure sports providers to give the following package at a special discounted price of 750-850/- rupees:

Short White Water Rafting
Jacuzzi
Swimming with life jackets
Boating
Kayaking
You may avail of these sports directly by paying cash over there.
Important notes on rafting:
The status of White Water Rafting – whether it will happen or not – will only be announced by Forest/Dam authorities on Saturday morning.
No travel company can promise it beforehand 100%.
Along with indulging in adventure activities, we will visit interesting local attractions like Dandeli backwaters that are famous to enjoy a peaceful sunset. A beautiful eco-park where a confluence of rivers Kali and Moulangi happens is a treat for the eyes. We will also visit crocodile park and Syntheri rocks formed by volcanic activity long back.
---
Highlights of the Dandeli Trip:
Dandeli Water Sports Package at special discounted price
Jungle camping
Beautiful backwaters of Kali river
Syntheri Rocks
Eco-park where 2 rivers meet (Kali and Moulangi rivers)
Crocodile park
Campfire
Music & Dance under the open sky
Good food (veg and non-veg)
---
Join us on:

—–
—–
—–
—–
—-


Check us out on:

(4.9 ⭐200+ reviews)—–
 (4.8 ⭐950+ reviews)
Watch Video(s) to get feel & vibe of the trip!
Day 0 Schedule

Start from Hyderabad, an overnight journey

Day 1 Schedule

Board our private tourist vehicle at Hubli Bus stand
Have a quick Breakfast
Reach the adventure town of Dandeli, check in to our beautiful jungle campsite, away from the town, with all good facilities like military tents, plenty of clean washrooms, dining area, campfire/music zone.
Quick freshen up, change to water wear, pack your towel, change clothes
Drive to the adventure land on the banks of river Kali, indulge in day-long water activities. The special discounted price of water activities is mentioned in the overview of this trip.
Come back to the campsite for late Lunch
Head to the scenic setting of Dandeli backwaters, get treated with a beautiful sunset 
Reach back to the camp late evening, freshen up
Bonfire at night with long conversations. Your trip leader will make you play nice games. You may also chill out and have your me-time.
We shall play our Music, Sing, and Dance under the open sky
Well deserved hot Dinner both veg and non-veg
Rest in your assigned tents.

Day 2 Schedule

Wake up to the chirping birds, cold breeze and misty setting of the surrounding forest
Freshen up and have a nice Breakfast
Take those selfies and groupfies at our lovely campsite in the fresh morning light (there are many photogenic places in and around campsite)
Check out of our camp, head towards Syntheri rocks which are formed from a volcano, climb down many stairs and explore the place
Try local food for Lunch. Note that Dandeli has limited options for food. Our Organizer will take you to a center, you may eat whatever you wish
Visit Crocodile park
Start back to Hubli by late evening, 
Board return Bus by 9:30 PM and head back to Hyderabad with beautiful memories

Day 3 Schedule

Reach home in the morning.
Share your adventurous stories of the Dandeli trip and camping with friends and family.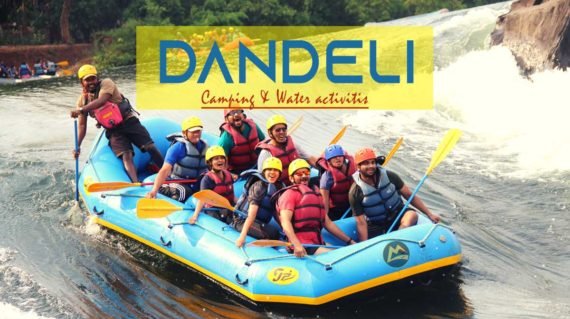 Generic Details
Basics:
Total slots for the trip: Usually 10 or more
Stay at our jungle camp on sharing basis with clean washrooms
Food: 1 Breakfast, 1 Lunch (veg), 1 Dinner included (veg and non veg)
Trek difficulty level: No trekking on this trip
---
Travel:
AC Volvo Semi Sleeper Bus up & down between Hyderabad and Hubli
Private tourist vehicle between Hubli and Dandeli (Non AC)
Trip start time: Friday night around 9 PM
Pickup / Drop: Mahatma Gandhi Bus Stand (MGBS)
Trip end time: Monday morning around 7 AM
---
What's next after booking your trip:
A Whatsapp group will be created for all the registered folks night before the trip.
You may say hi to other travelers and get prepared for the trip.
We will set expectations about the trip, remind you of important Terms & Conditions.
---
Special Notes:
This is a backpacking trip with physically intense experiences like water adventures, camping. Not for comfort/luxury seekers.
---
Seasonal variations:
Feb to May (summer): Best time to visit Dandeli, amazing sunsets. The hot climate throughout the day, an ideal time to play water sports, take a dip in the river/sea. Dandeli always has water as they release dam gates over the weekend.
Sept to Jan (winter): Pleasant weather during days, slightly humid, peaceful sunsets, good to play in the water. Cold nights will give a good experience of the campfire.
June to mid-Sept: It's the rainy season and time to store water in the dam for the entire year. We usually don't do Dandeli unless we get information that most watersports are happening.
The tour package inclusions and exclusions at a glance.
Dandeli Package Inclusions
Items that are included in the cost of tour price.
Travel
Camp (3 sharing military tents), clean washrooms
Food: 1 Breakfast, 1 Lunch (Veg), 1 Dinner (Veg & Non Veg)
Dandeli trip
Backwaters visit of Kali river for sunset
Local sightseeing (Eco park, Crocodile park, Volcanic formations)
Bonfire (if it doesn't rain)
Music & Dance under open sky
Organizer(s) from MT
A hell lot of entertainment!
Dandeli Package Exclusions
Items that are excluded in the cost of tour price.
Water activities like River rafting, Jacuzzi, Kayaking etc.
Food while traveling
Any misc. expenses not mentioned in the inclusions above.
No Luxury. We assure awesome memories every trip, but not awesome facilities.
We provide basic facilities in terms of food, travel and stay.
The itinerary is fixed. No special requests to change itinerary/schedule are permitted. Do not give advice(s) to the Organizer.
Absolutely no littering. We swear to protect our environment.
No alcohol & smoking during travel, treks and other outdoor activities. There would be a separate window and space (usually at night) to have these at campsite/homestay for interested people.
Cooperate with the organizer(s) in following the schedule set for the day (especially getting up and getting ready in the morning). This will ensure travelers won't miss out on the real fun part that is traveling.
Every traveler is responsible for his/her for your own safety. Don't indulge in any illegal or silly activity that causes harm to you or fellow travelers.
Do not wander into the forest away from the designated trail for trekkers. There may be snakes, scorpions and other dangerous animals.
Unexpected situations: It may happen we do not cover all the places mentioned in the itinerary because of unpredictable reasons like bad weather, landslides, wild animal presence, abrupt blocking of sites by the police/forest department, delay in travel because of an issue with our group itself, traffic conditions etc. In most cases, if the time permits, the organizer(s) will take travelers to an alternative place. But in some cases, we may have to skip a place altogether.
The event will stand cancelled if less than 8 travelers signed up for the trip/trek
Travelers are expected to respect each other and help each other. Avoid discussing sensitive matters like sex, politics and religion/caste/race.
Using foul or abusive language, eve teasing, arguing with fellow travelers/organizer(s) and/or involving in physical assault will not be accepted and will stand a chance of being deserted by the group then and there.
Every traveler is expected to sign a liability/waiver form given by the organizer(s) after boarding the vehicle. This liability form will discharge Muddie Trails of any unexpected incident like injury/death/theft etc. Read it here.
50% refund if a cancellation request is sent before 48 hours of the trip start time (note that this trip involves point to point Bus booking)
No refund  if cancellation request is sent within 48 hours of trip start time, whatever be the reason (health, family, work issues, accident etc.)
No refund during or after the trip, whatever be the reason
No refund on the partial payment done to block your seat for the trip
Toiletries, moisturizer, light towel, lip balm, wet wipes, toothbrush, toothpaste
A lightweight large Backpack for the trip (no suitcase, no trolley)
A small backpack for water activities (to carry a water bottle, change clothes, towel, etc)
Photo identity proof with address (Aadhar/Passport/Voter ID)
Poncho or rainproof jacket with a hood (from June to September)
Shorts, T-shirt for water sports
Cap/Hat/Sunscreen (to avoid getting tanned bigtime)
Sunglasses (to keep your eyes fresh)
Power bank, charger, camera (if you wish to)
Proper water bottle for your trip. You may fill at our campsite
Disposable garbage covers (To separate used/unused, dry/wet clothes)
Any kind of sandals or shoes are fine as there is no trek
Your personal medications, if any
Pair of water wear to take a dip in the river/sea
Carrying a handwash/sanitizer/tissues will help during the trip
Carry your jerkin/sweater – it can get cold at night as its close to the forest
Carry a lil bit of cash for Sunday lunch, dinner, and misc. expenses
Don't carry expensive items. You are responsible for your own belongings.
---
Read the detailed Terms and Conditions here.
---
Got more questions? Check out here!